This week I said that my blog is now my job. I am a blogger. But do bloggers actually make money? Is it not just big time bloggers like The Unmumsy Mum and Mother Pukka who make money? Have I totally lost my mind quitting my job …. (awkward pause). Well, I did lose it, and that is why I am now seeking alternative employment to give me time and space to fully let my mind heal. And apparently, I hear there are lots of ways even small bloggers like me can make money (see my work with me page to find out some of the ways I can work with brands if you are interested). It has never been in my plan to make money from my blog – it has been my place of refuge – but now that I am unemployed, there are 2 ways that you can help me make a little money at no extra cost to  you. It would mean so much to me if you wanted to support my blog, and in turn, support my recovery from mental illness. If you want to know how, keep reading (spoiler alert: keep reading is the first way!)
How can my readers help me make money?
This post contains affiliate links.
1. Keep reading!
Keep reading! See, I told you it wouldn't cost you anything. By reading, commenting, subscribing, liking and sharing my posts you are helping me grow. I love reading your comments – thank you for all of you who have commented so far! In case you didn't know, you can comment even if you don't have a website – just leave that box blank. Commenting, reading, liking and sharing all helps me make a small amount of money through advertisements. This is because I can be paid simply based on the number of times an advert is viewed (of course, if the advert interests you, I will receive a little more money if you click on the advert). Showing I have an engaged audience (which I already do) is also appealing to brands so they in turn will pay to work with me. So, thank you so very much for reading in your thousands. It still blows me away how many of you read my posts! From now on, every time you open a post, you will be helping me in the next part of my mental health recovery so THANK YOU!!
If you are interested to know how many people read my blog, you can view here:

2. Affiliate Links
The second way you can help me (at no extra cost to you) is through affiliate links.
Affiliate links in a nutshell:
This is an affiliate link to Boden. Clicking it (or clicking on the picture) will take you to the Boden site to this gorgeous dress (Hello, summer…):
If you then decide to buy this dress or some of their other beautiful clothes, I get a small percentage of the sales as a commission. I don't get told what you buy, your address, your payment details – I just get some money as a thank you for introducing you to the site.
Still confused? Unsure? Think it's all a bit dodgy (I know I did before I started blogging). Hopefully this will explain a little more clearly.
What are affiliate links?
If you are a blogger, you probably (definitely?) will have heard of affiliate links and affiliate sales. When I started my blog, I had no idea what those words meant. In fact, if I saw someone had posted affiliate links, I avoided them thinking it was something dodgy or that I would end up paying more. That is all a myth. Affiliate links are like any other link I have on my site (like this link to my disclosure page). If you click on them, you will be taken to another web page. Simple. Right?
Myth 1
They will take me to a dodgy site:
You've all seen the pop-ups: You are the 1000 customer! Click here for a free iPhone! Dodgy. Affiliate links are not that. At all. You will be directed to a normal website (e.g. Amazon, JoJoMamanBebe, Vertbaudet, Waterstones, Etsy). You can click on any of those links and see. There is a special piece of code written in to the link (the web address) that lets the website know that you came from my blog. It's the modern day word of mouth.
Personally, I would only link to sites that have things I love and I can vouch for – most of the time I will have bought it myself or am seriously considering buying it. I will only link to reputable brands. I will never knowingly link to a brand or site that has a bad reputation. That is not what my blog is about. I talk about Miscarriage, Mental Health and all things Motherhood so the site would need to fit into one of those categories in order for me to recommend it to you.
Myth 2
I will be tricked into buying something I don't want:
There is no way I would put affiliate links on my site if I thought it would coerce you into spending money you don't want to spend. That is not cool and totally not what I believe this blog is about.  Clicking on any link from my site will never ever mean that you have to part with cash. You are simply viewing another site.  For example, every time I go on the M&Co website, I want to buy clothes for Boo but I don't have to. I can just browse. And fill my cart. And wait patiently for the post man to arrive … (shhhh!) clicking on this affiliate M&Co link means you go to their website. You don't have to shop. But you might want to.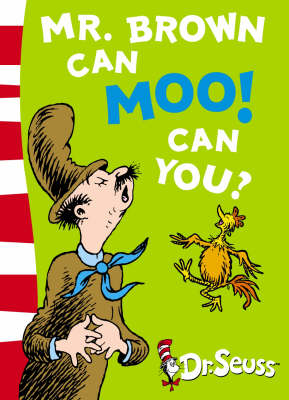 Here's another example: I really love reading Mr Brown Can Moo by Dr Seuss with Boo. I think it's a great book for babies, toddlers, preschoolers and young children. I think if you have a young child they might enjoy it (might? definitely!!). So I am telling you about it (that fits in with my blog's MO – I talk about Miscarriage, Mental Health and all things Motherhood). By clicking on the link you can go to a website that sells the book (in this case, I have linked to Waterstones). You can find out a bit more about it. You may discover that you already have it. Or you don't like it. Or that you LOVE IT (like me and Boo!) and want to buy it. It's up to you. You can buy it on the website I link to or anywhere you like. However, if you choose to buy it from the site I have linked to, the website (not you) give me a small percentage of the sale. So for example, if the book is £10, and I get 1% commission, I would earn 10p (it's not – it's £5.99 but lets keep the maths simple!). It may not seem like much, but right now, every penny counts. So each and every one of you that do buy through my links are helping me on my path to mental wellbeing, happiness and a family life that my daughter (and I) deserves.
Myth 3
I will have to pay more if I buy something through an affiliate link:
Nope. You pay exactly the same as you would if you had stumbled across the site without me introducing you to it. However, as a thank you to me from the website, I get a small percentage of the sales. I don't get to know any of your personal details. I just get given a little bit of money in my commission account. You will never pay anything more than if you bought an item normally. The prices on the site remain exactly the same. The money the website gives me is a small commission or finder's fee. I am basically doing small bits of advertising for the site and they pay me small percentages of sales for my work.
What if I click on it by mistake?
Nothing will happen. You are not obligated to buy. You can just come back to my blog and keep browsing or carry on with your day stumbling upon various corners of the internet.
So how do I know if it is an affiliate link?
Well, from now on, I will let you know at the start of the post if it contains affiliate links. In fact, I am starting to go back through old posts and add affiliate links there too. I will always tell you if it is an affiliate link – I believe that it's only fair that you know that I may receive a small benefit. If you want to support me in my journey to mental well being, I would massively appreciate you choosing to click on the link before you make an online purchase.
What do the links look like?
There are different kinds. Some links are just the blue highlighted text like this to the Wordery site.
Others are pictures within my posts like this picture of the book I am currently reading for the Bookish Mamas book club.
Finally, they may look like adverts like this Amazon box with my recommended products for making a DIY Easter chick card with your toddler.
//ws-eu.amazon-adsystem.com/widgets/q?rt=tf_mfw&ServiceVersion=20070822&MarketPlace=GB&ID=V20070822%2FGB%2Fthem085-21%2F8001%2F39d98335-e2f9-4f53-b9c3-6698a01a9170Amazon.co.uk Widgets
So that's it! 2 FREE ways that you can help me! Of course, if you want to stop reading or don't want to click on links that is fine – just scroll on by. FIrst and foremost this blog is here to help, support and entertain so there is no expectation or obligation to do anything. Whilst I put a lot of work into making these links for things that I think my readers would like, enjoy or benefit from, you are totally welcome to just continue reading, liking and commenting as you did before. Nothing has changed. I also don't want you to go spending money you don't have. But if I recommend something, and you think that you would like to buy it, then I would really appreciate you clicking on my link to take you to the website.
Thank you so very much for all of the support you have shown me so far. Here's hoping the next stage of my adventure brings more laughter than tears! I am sure it will …
PIN FOR LATER …